Getting Started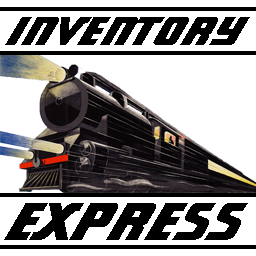 Inventory Express was designed to be a straightforward, easy-to-use program with a minimal learning curve. There aren't a lot of bells and whistles -- and that's intentional.
The goal is a system that provides toy train collectors a practical, powerful tool to hold all the important data about the items in their collection, while still being easy to navigate for the tech-savvy and computer-challenged alike.
Getting Started - suggested steps:
Check out the sample item:

One "sample" item (

a Lionel 700E

) comes pre-loaded when you first install the software. Take a quick look and see what's entered in each of the fields. When you're ready, you can delete the 700E, or just change the fields and pictures to reflect a real item in your collection.
Explore what Inventory Express can do

: I suggest you browse through the help topics (it won't take long) to get an idea of the various options and features available.
More than one computer

: Do you want to use Inventory Express from multiple computers? See:

Network Installation.
Plan your inventory

: Take a look at the Inventory Express

Field List

and

Predefined Dropdown Values

. If you have additional information you'd like to record about each inventory item, you can activate one or more of the

User-Defined Fields

.
Import

: If you have an existing inventory in Excel, Access, etc., Inventory Express allows you to

import

that data.





Add Photos

: Check out

Collection Photo Tips

for hints on adding pictures to items.
Your inventory on-line

: Want to view your inventory from any computer, tablet or smart-phone on-line? See:

Web Features Enabled.



Create an on-line store page

: Have some items in your collection you'd like to sell? See:

Store Options

.
© 2019 by Jeffery Corrick